Are you looking for low interest rate Cleveland mortgages and home loans? There are many real estate and mortgage web sites in Cleveland Ohio that will help you find the best loan possible at the lowest interest rates available.

Buying (or selling) your home has become somewhat complex. I'll tell you a little of ideas and philosophy and then list a few other interesting Web Sites that can add to your store of knowledge. Our web site offers a strategic approach to saving time and money in the home buying process.

Whether you plan to buy immediately, in a while, or not yet sure, follow these steps. You won't spend a dime until after the house is found, and the little up front planning time will save hours of wandering. This is not a substitute for professional help and not all items will apply to you

If buying a house isn't right for you, this is the fastest way to find out. If it is, following these concise tips should make your process faster, easier and more fruitful. Cleveland Mortgages will help you find the loan that you have been looking for.

•Are you a First Time Cleveland Mortgage buyer?
•Are you looking to build a new home in Cleveland?
•Are you buying a previously owned home and need a mortgage?
•Cleveland Mortgage 101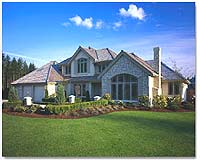 We'll find you the best Cleveland mortgage.